My Blog
Posts for tag: nutrition
By John L. Hyatt, DDS, MS, PA
December 16, 2019
'Tis the season to be merry—and with plenty of edible goodies! During the holidays, families fill their homes with all sorts of delectable treats for friends and loved ones. But there can be unintended consequences with all this joyous feasting, and not just added pounds come January: eating more sugar could increase your risk for dental disease.
We're not here to throw a wet blanket on your holiday fun. Instead, we have 4 commonsense tips to help you keep your holiday snacking from ultimately causing tooth and gum woes.
Blend in healthier choices. The problem with sugar is that it's a prime food source of disease-causing oral bacteria. The more sugar available in the mouth, the more these bacteria multiply and increase the disease threat to your teeth and gums. So, try reducing sugar by adding savory treats like nuts or flavored popcorn to your sweeter offerings. And don't forget cheese and other dairy—eating dairy products along with sweets can help blunt some of sugar's effect on bacteria.
Avoid "grazing." While it's tempting to do so during the holidays, continuous snacking increases the mouth's acidity, which is like Superman's kryptonite to your tooth enamel. The longer acid directly contacts your enamel, the more it can soften it and open the door to tooth decay. Saliva neutralizes after-meal acid; but if you're constantly snacking, you could prevent saliva from completely buffering the acid present. So, limit your snacking time—or better yet, reserve your sweet treats for mealtime.
Don't neglect your hygiene. The hectic pace of the holidays can interfere with people's normal routines. Don't let that happen to your daily practice of brushing and flossing. These essential hygiene tasks clean your teeth of a disease-causing biofilm called dental plaque. Miss a few days and the accumulated plaque could trigger an infection that could damage your gums and ultimately your teeth. You can help avoid this by brushing and flossing every day.
Don't brush right after eating. The mouth's acidity naturally increases during and just after eating. As we alluded to earlier, saliva's on the job getting the mouth back to a more neutral state and reducing the effect of acid on enamel. That takes about an hour, though, and in the meantime your enamel may be in a slightly softened state. If you brush right after eating, you might inadvertently brush tiny bits of enamel. So, wait an hour or so after eating before you brush.
The holidays are all about enjoying friends and family and ringing in the new year. Follow these tips to ensure it's a healthy and happy one for your teeth and gums.
If you would like more information about dental care during the holidays, please contact us or schedule a consultation. To learn more, read the Dear Doctor magazine article "6 Tips to Help Prevent the Erosion of Tooth Enamel."
By John L. Hyatt, DDS, MS, PA
October 02, 2018
In the quest for the ideal diet, people often stress over one particular food group: carbohydrates. And for good reason—some carbohydrates have been linked to chronic inflammation, a contributing factor in many diseases. One such condition in particular, periodontal (gum) disease, could permanently damage your dental health.
But before you throw all the carbs out of your diet, let's take a closer look at them. Not all carbs are the same or contribute to inflammation to the same degree.
Carbohydrates are organic compounds existing in living tissues. In foods, the most prevalent of these are sugars and starches that break down during digestion into the simple sugar glucose, which the cells in an organism use for energy.
But not all carb-based foods digest at the same rate, measured along a scale called the glycemic index. High glycemic foods like sugar, baked goods or potatoes digest quickly and can rapidly increase the glucose levels in the blood (blood sugar). This sudden glucose spike then triggers an insulin surge from the pancreas to restore the level to normal. This process in turn can cause inflammation.
On the other end of the glycemic index are complex or unrefined carbohydrates that digest much more slowly, and don't quickly elevate blood sugar like simple carbs. In fact, nutritional studies consistently show carbohydrates in most vegetables, greens, beans or whole grains may actually decrease inflammation.
Inflammation is also a primary factor in gum disease, caused by a bacterial infection in the gums. Chronic inflammation damages the gums' attachment with the teeth and can contribute to eventual tooth loss. And if your body already has an overactive inflammatory response due to your diet, you could be even more susceptible to gum disease.
A change in your diet in relation to carbs could help reduce this risk. Eat less sugar, white flour, rice and potatoes and more complex carbs like fresh vegetables and fruits. For even more protection include foods rich in Omega-3 fatty acids (like certain fish and nuts) and less Omega 6 foods (fried food or pastries, or chips, for example). And don't forget your antioxidants, vitamins and minerals.
Eating fewer simple carbs and more complex carbs will help reduce inflammation in the body. And that's a good thing for your gums.
If you would like more information on how diet affects dental health, please contact us or schedule an appointment for a consultation. You can also learn more about this topic by reading the Dear Doctor magazine article "Carbohydrates Linked to Gum Disease."
By John L. Hyatt, DDS, MS, PA
January 30, 2018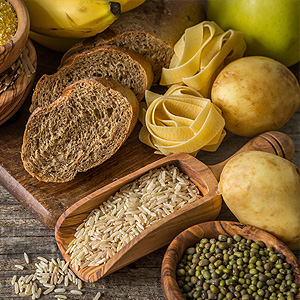 If you've had issues with periodontal (gum) disease, no doubt a few things have changed for you. You may be seeing us for dental cleanings and checkups more frequently and you have to be extra diligent about your daily brushing and flossing.
There's one other thing you may need to do: change your diet. Some of the foods you may be eating could work against you in your fight against gum disease. At the same time, increasing your intake of certain foods could boost your overall oral health.
The biggest culprits in the first category are carbohydrates, which make up almost half the average diet in the Western world, mainly as added sugar. Although carbohydrates help fuel the body, too much can increase inflammation—which also happens to be a primary cause of tissue damage related to gum disease.
Of course, we can't paint too broad a brush because not all carbohydrates have the same effect on the body. Carbohydrates like sugar or processed items like bakery goods, white rice or mashed potatoes quickly convert to glucose (the actual sugar used by the body for energy) in the bloodstream and increase insulin levels, which can then lead to chronic inflammation. Complex or unprocessed carbohydrates like vegetables, nuts or whole grains take longer to digest and so convert to glucose slowly—a process which can actually hinder inflammation.  
Eating less of the higher glycemic (the rate of glucose conversion entering the bloodstream) carbohydrates and more low glycemic foods will help reduce inflammation. And that's good news for your gums. You should also add foods rich in vitamins C and D (cheese and other dairy products, for instance) and antioxidants to further protect your oral health.
Studies have shown that changing to a low-carbohydrate, anti-inflammatory diet can significantly reduce chronic inflammation in the body and improve gum health. Coupled with your other efforts at prevention, a better diet can go a long way in keeping gum disease at bay.
If you would like more information on the role of diet in dental health, please contact us or schedule an appointment for a consultation. You can also learn more about this topic by reading the Dear Doctor magazine article "Carbohydrates Linked to Gum Disease."