My Blog
Posts for: June, 2021
By John L. Hyatt, DDS, MS, PA
June 19, 2021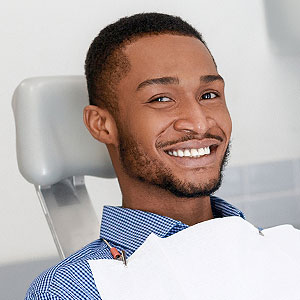 While your dentist plays an important role in keeping things inside your mouth healthy, what you do every day often makes the biggest difference. Here are 5 routine things you can do for better oral health.
Brush and floss every day. The most important thing you can do for your teeth and gums is adhere to a daily schedule of brushing and flossing. These twin tasks remove the daily buildup of plaque, a thin bacterial biofilm most responsible for tooth decay and gum disease.
Check your hygiene. There's brushing and flossing—and then there's brushing and flossing effectively. To make sure you're getting the job done, run the tip of your tongue along your teeth after you brush and floss. If it feels smooth, mission accomplished! If it feels rough and gritty, though, try again. You can also use plaque disclosure products occasionally to highlight any missed plaque still on your teeth.
Say no to sugar. Chances are you love sugar—and so do the disease-causing bacteria in your mouth. As they feed on sugar, they multiply and produce acid, which in high levels can erode tooth enamel and lead to tooth decay. Limiting sugar in your diet reduces oral bacteria and the acid they produce, and thus lowers your risk for disease.
Drink plenty of water. Saliva plays an important role in oral health: It helps fight off bacteria, neutralizes acid and re-mineralizes tooth enamel. But it can't do those things if there's not enough of it. So, if your mouth consistently feels dry, drink more water to give your body what it needs to make saliva. Drinking water also washes away food particles that could become plaque and lowers your mouth's acidity.
Maintain your dental appliances. You can extend the life of dentures, retainers or other types of dental appliances by cleaning and maintaining them. You should clean your appliance regularly using regular hand soap or a designated cleaner (not toothpaste, which can be too abrasive). Unless otherwise directed by your dentist, take them out at night and be sure to store them where kids or pets can't get to them.
If you would like more information on best dental care practices, please contact us or schedule an appointment for a consultation. You can also learn more about this topic by reading the Dear Doctor magazine article "10 Tips for Daily Oral Care at Home."
By John L. Hyatt, DDS, MS, PA
June 09, 2021
It takes only a short time neglecting your oral hygiene before you begin to notice some unpleasant things with your gums: swelling, redness or even bleeding. These are all signs of gingivitis, a periodontal (gum) disease that arises from bacterial plaque, a thin biofilm that builds up on tooth surfaces when a person doesn't brush or floss.
Fortunately, early stages of gingivitis can be treated effectively with comprehensive plaque removal during one or more office visits. If, however, it's not dealt with early, it can develop into something much more serious: acute necrotizing ulcerative gingivitis (ANUG). This form does more than leave you with unattractive teeth and gums and terrible breath — it could eventually cause you to lose your teeth.
ANUG is also known as trench mouth, a common ailment among front line World War I soldiers without access to proper dental care and hygiene. It's most prevalent today among individuals who are under a great deal of stress, not sleeping or eating well and haven't cleaned or properly cared for their teeth for an extended period of time. Tobacco smokers also seem more susceptible than non-smokers to the disease, perhaps because smoke dries the mouth and changes the bacterial environment.
Unlike common gingivitis, ANUG can be quite painful. In effect, the gum tissues begin to die (necrotize), especially the triangular peaks between teeth known as papillae. Besides the other symptoms of gingivitis, the tissues may become yellowish.
ANUG can be treated effectively. The first step is to relieve the symptoms of pain and inflammation through medication. The focus then shifts to treating the underlying cause, bacterial plaque. Besides plaque removal common in any treatment for gum disease, we may also need to initiate antibiotic therapy. Metronidazole is a common antibiotic that's been demonstrated effective against the specific bacterial strain associated with ANUG. We might also combine this with an antibacterial mouth rinse containing chlorhexidine.
The final step belongs to you: to keep ANUG or any other gum disease from reoccurring, it's important for you to adopt a daily regimen of brushing and flossing, along with regular dental visits for thorough teeth cleaning and checkups. Taking this proactive approach will help ensure you won't suffer from this painful and unattractive form of gingivitis again.
If you would like more information on acute gingivitis, please contact us or schedule an appointment for a consultation. You can also learn more about this topic by reading the Dear Doctor magazine article "Painful Gums in Teens & Adults."