My Blog
Posts for: December, 2018
By John L. Hyatt, DDS, MS, PA
December 11, 2018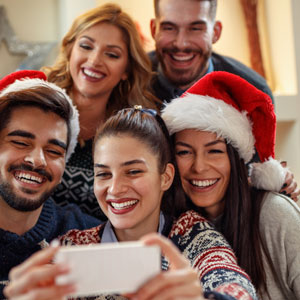 'Tis the season for holiday joy with sweet treats at every turn. Don't let it be the season for dental woes as well. You've heard that sugar causes cavities. That's because bacteria in your mouth feed on sugar and release acid as a by-product. The acid eats away at tooth enamel, resulting in tooth decay if not checked. To protect your smile during the December onslaught of cookies, candies and other goodies, follow these tips:
Seek balance. Foods that stick to your teeth like candy canes, chewy candies or potato chips provide more opportunity for cavities to develop. To help keep your smile sparkling for the New Year, mix it up with healthy options. Chances are you will come across tooth-healthy offerings like raw vegetables, a cheese plate or mixed nuts. Vegetables scrub your teeth while you chew and stimulate the production of saliva, which helps neutralize acid and rebuild tooth enamel. Cheese also neutralizes acid in the mouth and has minerals that strengthen teeth, while nuts stimulate saliva production and provide vitamins and minerals that keep teeth strong and healthy.
Consider your timing. There's a higher risk of developing tooth decay when sweets are consumed as standalone snacks, so when you do eat sugary treats, try to have them at mealtime. Repeated snacking between meals exposes teeth to food particles throughout the day, and the acids produced can continue to act on your teeth for 20 minutes after a treat is consumed. During meals, however, other foods present help balance out the sugar and stimulate saliva production, which helps neutralize acid and wash away food particles, sugar and acid from your teeth.
Watch what you drink. Sipping sweet drinks over time can have ill effects on your teeth because of prolonged contact with sugar. If you consume sugary beverages, try to do so in moderation and preferably along with a meal. Sipping your drink through a straw can help keep the beverage away from direct contact with your teeth. Consider opting for water—there are plenty of other opportunities for extra sugar and calories! Besides, water washes away food bits and dilutes acidity. After eating the sweet stuff, it's a good idea to drink water or at the very least swish a little water around in your mouth.
Keep up good oral hygiene. With all the holiday busyness—shopping, gatherings with friends and family, school functions—you may find yourself exhausted at the end of the day. Still, this is an especially important time to keep up your oral hygiene routine. Brushing your teeth with fluoride toothpaste morning and night and flossing every day are key to keeping your teeth for the long haul.
Finally, if you are due for a dental checkup or cleaning, give us a call to make sure you start the New Year with a healthy smile. If you have a flexible spending account that will expire with the calendar year, make it a priority to fit in an end-of-year dental appointment. Please contact us or schedule an appointment for a consultation if you would like more information about keeping in the best oral health. To learn more, read the Dear Doctor magazine articles "Nutrition & Oral Health" and "The Bitter Truth About Sugar."
By John L. Hyatt, DDS, MS, PA
December 01, 2018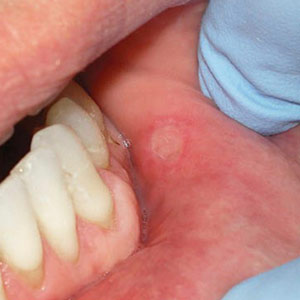 They seemingly pop up out of the blue inside your mouth: tiny sores that are sometimes painful — and always annoying. Then, in about a week to ten days these small, irritating lesions are gone.
They're known as canker sores: the most common break out in the linings of the mouth, including the cheeks, lips, under the tongue or even the back of the throat. Medically known as aphthous ulcers, you'll recognize these round lesions by their yellow-gray center surrounded by a red "halo."
You might feel a tingling sensation a couple of days before an outbreak. Once they appear they usually last a week to ten days; during that time they can cause discomfort especially while eating or drinking.
We don't know fully what causes canker sores, but it's believed they're related to abnormalities in the immune system, the processes in the body that fight infection and disease. High stress or anxiety and certain acidic or spicy foods like citrus fruit or tomato sauce also seem to trigger them.
Most people experience canker sores that range in intensity from slight discomfort to sometimes severe pain. But about 20-25% of people, mostly women, have an acute form known as recurrent aphthous stomatitis (RAS). Thought to be hereditary, RAS produces clusters of ulcers that are almost always painful, and which come and go on a regular basis.
Our main treatment goal with canker sores is to decrease discomfort while the outbreak runs its course and promote rapid healing. There are over-the-counter ointments that often prove effective. For more resistant symptoms we can also prescribe topical or injectable steroids or other medications.
Canker sores are rarely concerning as a significant health issue. You should, however, take an outbreak seriously if it hasn't healed within two weeks, if the outbreaks seem to be increasing in frequency or severity, or you're never without a sore in your mouth. In these cases, we may need to take a tissue sample of the lesion to biopsy for signs of cancer, pre-cancer or some other skin disease.
More than likely, though, the canker sore will be benign albeit annoying. With effective treatment, though, you can get through the outbreak with only a minimal amount of discomfort.
If you would like more information on treating canker sores, please contact us or schedule an appointment for a consultation. You can also learn more about this topic by reading the Dear Doctor magazine article "Mouth Sores."